NEW!!
Manta 5 foiling bikes.
Kite sales .
Contact us https://www.facebook.com/splashwatersporthireLtd/posts/1332840736809732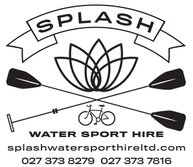 https://brianfm.com/alexandra/ Is all we listen too
Want to ride the bike trail?
We have expanded our operations to Clyde dam end of Lake Dunstan!
Also, new to our collection is the foiling bike. Come and glide on top of the water
Yoga classes by Amy or Private lessons at your home or Near Clyde in peaceful private surroundings.
Msg or Contact Amy for details 0273738279
WINTER PACKAGE- SINGLE KAYAK & BIKE FOR THE DAY- $100.00
HIRES
Group and long term dry hires available on request. Bookings required.
Message
Amy on 0273738279
or Simon on 0273737816